Help Restore an Endangered Forest in the Andes!
A donation will lower your carbon footprint and allow villagers in Peru to plant a native Queuña forest in the Andes, an endangered habitat!
---
About this Project
[+]
Support the Restoration of Ancient Inca Forests in the High Andes of Peru--and Also Help Reduce Your Carbon Footprint!
Following up on their successful planting of 89,600 native Queuña trees in the Peruvian Andes during the 2016-2017 season, the Cusco-based ECOAN and adventure tour company Amazonas Explorer are hoping to raise donations to be able to plant an additional 100,000 trees during the 2017-2018 season. This will be done through a collaborative effort between local native villages in the Sacred Valley near Cuzco, Peru. The trees will help restore an endangered habitat in the high Andes of Peru.
To learn more about the project, please click on the video above!
Problem that we are solving
Five hundred years ago, when Spanish conquistadors first set foot in Peru, the high Andes had abundant forests of a low-growing and durable tree called Queuña (Kay YOU nyuh). The forests were home to more than 150 native species, absorbed and later released water from rain and glaciers, produced oxygen, absorbed carbon dioxide, and provided firewood and construction material to native people. Five hundred years later, these ancient forests have almost disappeared, and with them many of the species that once lived within these forests have almost gone extinct.
As is well known, when fossil fuels are burned, carbon that has been locked away for millions of years is released into the air, causing the Earth's temperature to rise and significant climatic changes to take place. Because trees and other plants play a vital role in balancing CO2 and oxygen levels, widespread deforestation has had an additional negative impact, releasing more CO2 into the atmosphere. The Peru reforestation project is the perfect opportunity for you or your business to make a positive impact to reduce your fossil-fuel based carbon emissions. These changes are essential if we really want to make a difference.
How we solve the problem
"One tree will absorb an average of 1,000 lbs of CO2 during its lifetime; 22 trees will produce the amount of oxygen a person consumes during his or her lifetime; while a single tree can produce more than 260 pounds of oxygen in a year!"
In 2007, Paul Cripps of Amazonas Explorer teamed up with a non-profit group in Peru called ECOAN (Association of Andean Ecosystems) to promote a project that began to restore these ancient forests. Working with native communities that still speak the Incas' ancient language of Quechua and in an area of the Peruvian Andes, ECOAN and other partner organizations began a program of Queuña forest restoration that is continuing today.
In 2014, to celebrate the United Nations climate change meetings in Lima, the collaborators created Queuña Raymi - "The Festival of the Queuña Tree." Soon afterwards, on November 29th 2014 and together with over 1,000 helpers, they managed to plant an amazing 57,100 native Queuña Trees in one big day of tree planting. During the 2017-2018 year, they returned to plant 89,600 trees. However, there is plenty of unrestored (meaning stripped) habitat in which to continue the restoration project, which helps local communities by creating a sustainable supply of wood and also by helping to restore the watershed and reduce the erosion of topsoil.
During the 207-2018 season, the goal is to plant at least 80,000 Queuñas starting on the 2nd and 3rd of December with the communities of Huilloc and Choquecancha (beside the lovely Pumamarca ruins) planting 20,000 trees each day.
Then, throughout Jan - March, there will be other plantings going on all over the valleys around Urubamba, Ollantaytambo and Lares to make up the remaining 40,000 and possibly more, depending on the funding that we are able to raise.
Our impact
Questions & Answers with Paul Cripps, CEO of Amazonas Explorer, an adventure company located in Cusco, Peru that is helping to spearhead this effort:
What is the story behind this project?
As the only Peruvian member of www.onepercentfortheplanet.org, we donate 1% of our turnover (not profit - yes turnover!) to projects to help combat climate change and to help create a sustainable world. We've been planting trees since 2007 and with the help of friends from all over the world, we've personally been involved in planting over 500,000 trees. The goal is one million trees by 2020--so we have a way to go!
Where do the trees to be planted come from?
Native villages in the Andes that we have been working with grow the trees from seeds. They are paid to grow the seedlings and later to plant the young trees—about 10,000 - 20,000 at a time. They have them bagged and ready to plant with the whole village turned out on the day of the planting. It's a very colorful sight to see. The president of each village participating addresses the rest of the villagers, reminding them that the trees are being planted for their children and their future—and to make sure the young saplings are planted well so that they take root and survive. After the planting, a communal dinner is included and everyone (from kids to grandparents who all get involved) is given a day's salary.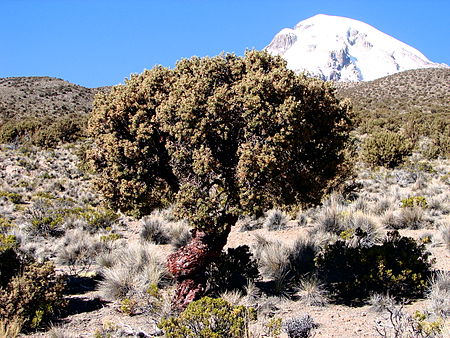 A mature Queuña tree, at 14,000 feet in the Andes
How many communities do you work with?
We are working with more than a dozen villages, which means more than 3,000 people. We've been working with the village of Pampacorral, for example, since 2007. We've just begun working with a new village, Cuncani. All are in the Lares watershed, a popular trekking area, just behind the Sacred Valley of the Incas near Cusco.
What elevation are these villages at and at what heights do the trees grow?
The villages are at about 11,000 feet. The Queuña forests are the highest forests on Earth, growing up to 4,800 meters (nearly 16,000 feet).
How many trees are planted at a time and how long did it take?
During a planting weekend, we get up at sunrise each morning for the drive to the local communities from our base in the Lares Valley (in south-central Peru). We recently planted 10,000 trees at Pampacorral, and another 5,000 at Cuncani the following day. And a week later local school children from the community of Huaca Huasi planted another 5,000. Each day, we climb up into the mountains and plant trees until they are all planted—roughly until mid-afternoon, before the afternoon rains begin.
What is the benefit the community gets out of it?
The community leaders and locals routinely talk about long term benefits of trapping oxygen in the thin Andean air, preventing flash floods by storing water, shoring up the hillsides and providing firewood for future generations to cook their food with. Members of the community are also paid to grow and care for the trees as well as to plant them, thereby learning and appreciating all stages of the planting process. In this case, all the trees are grown at improvised nurseries in the villages and then are transported to the planting location by villagers who hike up into the mountains, carrying pick axes. Everyone is involved - as long as you can carry a tree, you'll get paid. The men dig the holes, the women plant the trees, the kids collect the plastic bags and help stamp down the earth. It works out to roughly 40 trees per person per day when 250 people from each community are involved.
What is Ecoan's role?
The Peruvian non-profit organization, Ecoan, are the facilitators - they contact the communities and ensure everyone turns up on the day, they also regularly monitor the trees for growth. As they are all from Cusco, they speak Quechua, the native language of the Andes and have been working with these communities for many years. Their "hands on" approach, their contacts and their love of what they are doing, makes them a vital partner to successfully coordinate each project day.
Any personal stories of people in these communities that have been affected?
In December 2013, I travelled to Pampacorral with Simon Rodriguez, the outgoing president of the Pampacorral community and now a good friend and dedicated believer in the importance of these plantations. We took a few minutes off from the tree planting to revisit the various past years of plantations and to wander through what is soon going to be an impressive forest of native Queuñas - They do take a long time to grow but you could see the year on year growth of these trees - some now over 6 feet tall dwarfed over us. It was an emotional moment for both of us to see trees we'd planted as 2 inch high saplings some 6, 4 and 2 years ago, now growing well and it was lovely to see Simon so keen to show the next community president how important this work is. On the way down the mountain in the pouring rain, we stopped to look at a landslide. "By planting these trees, that's what we are trying to avoid" Simon said.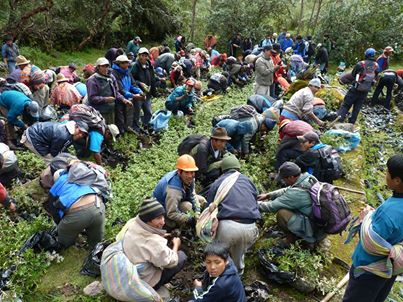 Villagers preparing Queuña saplings before planting on mountain sides un 2014.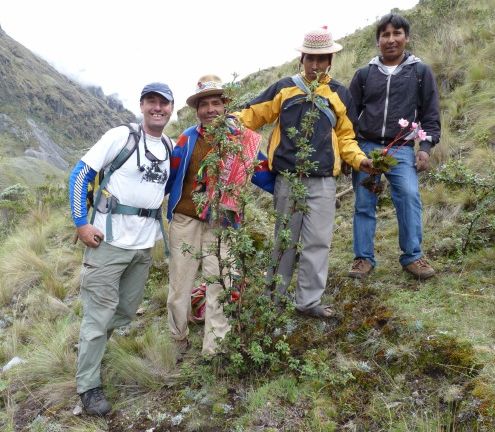 (left to right): Paul Cripps (Amazonas Explorer), Simeon Rodriguez (former president
of the Pampacorral community), Justino Mamani Siccus (vice president of Pampacorral),
& Florentino Apaza Huaracha (from ECOAN) with a young Queuña tree.
42% Funded
$2,085 Pledged
36 Days Left
26
backers
$2,085
pledged of $5,000 goal
Where this project is located:
lares,